Da mir Qwertee jetzt schon zum dritten Mal die selbe Mail geschickt hat, gehe ich euch damit jetzt mal auf den Sack:

Qwertee hat jetzt eine Art Treuepunkte-Programm gestartet, wo ihr ab neun Bestellungen ein T-Shirt gratis bekommt. Schaut bitte in euer Postfach, denn ich habe bereits einen Code dafür bekommen.
Ihr bestellt zwei Shirts, gebt den...Gutscheincode ein und schon bekommt ihr das zweite Shirt gratis.

"Hello loyal friend of Qwertee! Here at Qwertee we definitely reckon that we have by far the most loyal and friendly community of anywhere in the online world. It's this community that's helped Qwertee grow to where it is today after 5+ years, so we think it's high-time to say thanks to you guys!

We've decided the best way to say thank you is with our brand new Qwertee LoyalTEE card system. With this, every order you place you get a stamp on your LoyalTEE card! Once you get to 9 stamps, you get a FREE TEE code. With this code, you can get one free tee with your next (10th) order (though it can't be used in an order on its own!)

Even better than all this, because you are one of our best customers, we've already filled in some stamps for you depending on how many orders you've already placed - so you should have somewhere from one stamp to a full card to get you started! Just click here to see view your LoyalTEE card now. Well done on being so great!

The better news is that this is not a one off offer, the Qwertee Loyaltee Card is the gift that keeps on giving, because the more orders you place in the future, you'll continue getting more stamps- I'm sure lots of you will have bunches of free tees in no time.

Make sure to check out how many stamps you have right here on your Qwertee profile!

So thanks again for being such a good friend to the Qwertee community over time, we really appreciate it. And we hope you all enjoy our new LoyalTEE system!

Best Wishes,
Qwerteebot (and his human helpers) "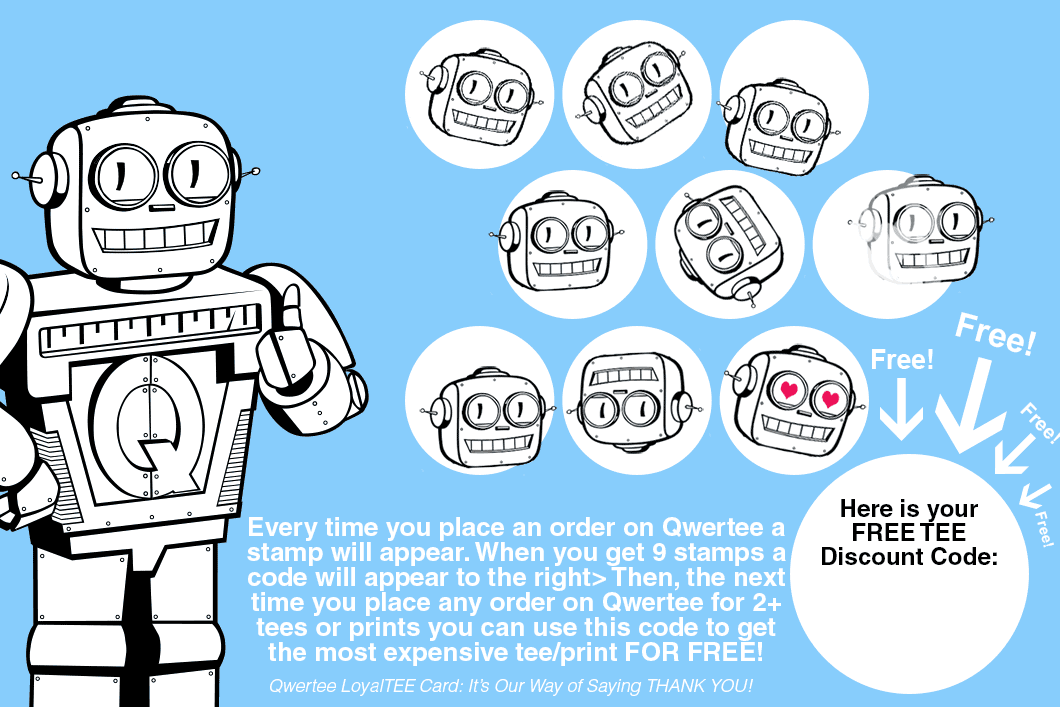 Unboxing, falls ihr hinter dem Mond lebt und noch nie von dem Laden gehört habt
: